Guest post by Benj Sykes, UK country manager at Ørsted and co-chair of Offshore Wind Industry Council.
This article is part of the Green GB Week blog post series.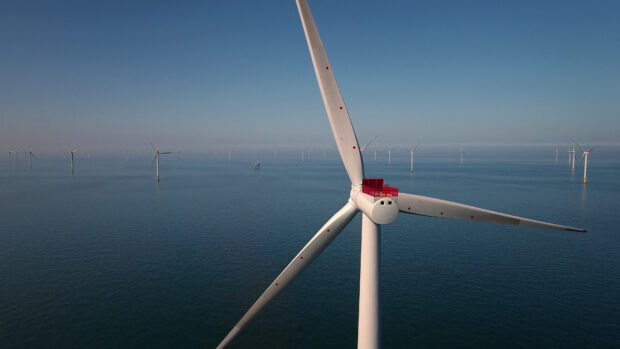 The latest Intergovernmental Panel on Climate Changes Special Report shows the irreversible impacts that a further 1.5 degrees Celsius warming above pre-industrial levels will have on our home, planet Earth.
It's seriously worrying. And, given the previous target of 2 degrees C was already seen by many as a big stretch, one thing that's clear is that limiting our impact to 1.5 degrees C won't be easy.
This interactive website from Carbon Brief shows the devastating impacts both at 1.5 and 2 degrees Celsius. A very powerful call to action - reaching this target is imperative.
I feel energised to work in an industry, and for a company within it, that is making a real difference today and opening up the pathways to deliver the changes we need to make.
A long-term view is essential: clean growth must be sustainable. Not only does offshore wind have the potential to become the backbone of the UK's clean electricity system, it's delivering thousands of jobs and economic growth to coastal areas and bringing billions of pounds of investment to the UK.
An industry that exceeds expectations
The UK leads the world in offshore wind. With 7.9GW in operation and a further 6.2GW in construction, by 2020 this technology will provide 10% of the UK's electricity.
Both in the UK and globally, the industry has grown faster than many anticipated, not least driven by steep cost reductions thanks to economies of scale, innovation and supply chain development – and human ingenuity.
The rapid reduction in cost of clean power from offshore wind has meant a fast roll-out of this innovative technology, creating hubs that combine the development of skills, research and innovation, productivity and deployment.
Grimsby - a clean growth blueprint
Grimsby is one example. Now a green growth hub, this town, once at risk of decline from its diminishing fishing industry, shows that when government, academia and industry work together, offshore wind can completely transform an area – so much so that international delegations are using the Humber area as a blueprint for clean growth.
We employ hundreds to construct, operate and maintain our offshore wind farms off the Yorkshire Coast, and are building our new operations and maintenance centre at Grimsby Docks, the largest of its kind in the UK.
Up the road is the Siemens Gamesa blade facility in Hull, again employing hundreds of local people and providing 81m blades for our wind farm projects, including the two biggest in the world.
Aura, a collaborative group of academia, industry, NGOs, government and local government partners, recently announced a brand new innovation centre in Hessle just outside of Hull, funded by £12 million from the European Regional Development Fund, GreenPortHull and match funding from the University of Hull.
Big investments that result in clean electricity, skilled jobs, productivity and economic uplift in the parts of the country that most need it. That's clean growth.
Investing in the future
The collaborative partnership between industry, academia and government over the last decade has given the UK its world leading position. Now, as global markets catch up, we must harvest the benefits.
We welcome the clarity in future auctions for offshore wind, announced by the government in July this year. It's a strong vote of confidence in our industry. By 2030, the industry  stands ready to quadruple today's offshore wind capacity meaning we could provide a third of the country's electricity needs.
And thanks to our globally leading role, the UK can also benefit as other countries grow their offshore wind capacities.
Our supply chain is already exporting to 22 countries, and by 2030 we are aiming to grow exports five-fold to over £2.5 billion a year. Businesses right across the UK should be looking to get involved.
It's a hugely exciting time for offshore wind, both in the UK and worldwide. Admittedly, with the rate of the industry's growth, I've probably said that every year, as we've developed regional hubs of excellence, smashed cost targets, pushed the boundaries on innovation and continued to build large, complex projects with capacity approaching that of a nuclear power station, on time and on budget.
I don't think anyone can predict what will happen in the next ten years, but, I am quietly optimistic that this industry, already making a real difference to carbon emissions worldwide, will continue to exceed expectations, and play its part in not just meeting the government's Clean Growth Grand Challenge, but truly make the most of the opportunities it brings.
---