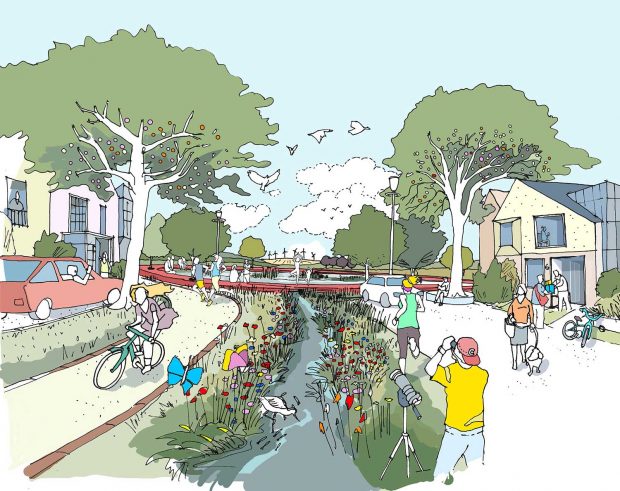 Hertfordshire Local Enterprise Partnership is unashamedly ambitious for the future of our places and people by harnessing technological advances to create sustainable communities.
Through the development of our Local Industrial Strategy, we are identifying opportunities to respond positively to the need for growth, but not growth at any cost.
Over the past 5 years, we have made good progress in reinvesting in our larger towns of Watford, Stevenage and Hemel Hempstead, with further regeneration in our smaller towns of Waltham Cross and Bishop's Stortford.
In March this year, the government announced it was providing £3.7 million for 5 new Garden Towns to fast-track delivery of 64,000 new homes across England.
Hemel Garden Communities, on the west of the county, was one of the successful bids in this new round.
The bid was developed in partnership between Dacorum Borough Council, Hertfordshire Local Enterprise Partnership, St Albans City and District Council, Hertfordshire County Council and The Crown Estate, to deliver a mixed-use residential and commercial development for Hemel Hempstead, delivering up to 11,000 homes and 10,000 new jobs.
Hemel joins Harlow-Gilston, another planned new settlement that has been awarded Garden Town status, on the county's eastern fringes.
In announcing the new funding for Garden Towns, Housing Minister Kit Malthouse said the new towns will not only provide homes for families, but will be vibrant communities where everyone can benefit from new infrastructure.
This legacy can be traced back to the Garden City movement which began in Letchworth Garden City
Its custodian is Letchworth Garden City Heritage Foundation, whose values  are underpinned by a series of principles developed by Ebenezer Howard.
These include land value capture for the benefit of the community; long-term stewardship to ensure that communities stand the test of time; integrated public transport systems with access to core services in walkable neighbourhoods; bio-diverse, attractive spaces and a strong local job offer.
The government's commitment to new Garden Towns has been welcomed by the Town and Country Planning Association, which has been campaigning over the past 6 years for a new generation of garden cities to help address Britain's housing crisis.
These large settlements would allow for the highest sustainability standards, economies of scale and better use of infrastructure which could not be addressed on a plot by plot basis.
Opportunities to deliver a complete housing mix
They would include a complete mix of housing types, including social and affordable housing; zero-carbon design; sustainable transport; vibrant parks; local food sourcing and create local employment opportunities. Fundamentally, TCPA advocated for them to build on the Garden City Principles of land value capture for both societal and commercial gain.
Running parallel to this campaign to drive up standards in existing and new housing stock has been the TCPA's campaign Room to Breathe.
The campaign marks the centenary of the Planning and Housing Act of 1919
It is a response to the findings of the TCPA's Raynsford Review which showed that deregulation of the planning system and permitted development rights (PDR) is creating devastating outcomes for people.
Here in Hertfordshire, the impact of PDR can be felt in the dramatic loss of employment space over the past decade across the county.
According to a report commissioned by Hertfordshire LEP, this loss of employment land is equivalent to the total office space in St Albans, Watford and Welwyn Garden City combined.
Responding to the report by surveyors Lambert Smith Hampton, Hertfordshire LEP Chair Mark Bretton said the report indicates that the impact of PDR is more keenly felt here in Hertfordshire than in other parts of the UK.
One of the county's biggest growth opportunity in decades is its new enterprise zone, Hertfordshire Innovation Quarter
It is the western commercial anchor of Hertfordshire's east-west growth axis, which is likely to accommodate around 50% of the county's housing growth, with an enterprise zone and a new Garden Town at each end.
As lead partner, we have the opportunity to shape its development with potential for national significance.
With an unprecedented level of housing growth, pressure from adjoining areas, especially London, Hertfordshire's services and transport systems will face increasing stress.
Now more than ever we need to respond positively to this need.
The onus is on us collectively to find new and innovative forms of development that can accelerate housing delivery, find modern live-work solutions while meeting a high quality threshold for sustainable design, materials and build methods.
With the development of our Local Industrial Strategy, we have the potential to both check and challenge current and new ways of working and become a UK testbed by building on our legacy of ideas and pioneering heritage to pave the way for future generations.
Find out how we are developing our Local Industrial Strategy.
---