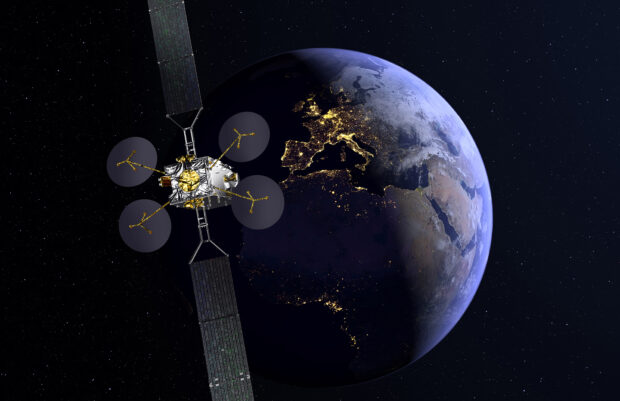 Last week, at the Space Propulsion Integration and Manufacturing Centre at Thales UK Belfast, Thales Alenia Space delivered the UK's first all-electric propulsion module designed and built in the UK, the Spacebus Neo Xenon Propulsion System (XPS).
This signifies an important delivery milestone for the UK's Space industry as well as valued partners the UK Space Agency, European Space Agency and Invest Northern Ireland and is a clear statement of the UK's dynamic and growing space sector.
In a technology first for the UK, the All-Electric Spacebus Neo Xenon Propulsion System (XPS) module is a true example of international collaboration and team effort for Thales Alenia Space.
The Spacebus Neo XPS module will be embarked on the first Thales Alenia Space Spacebus NEO satellite to serve global satellite operator Eutelsat's KONNECT satellite.
It is one of the largest and most sophisticated pieces of space hardware ever produced in the UK by Thales Alenia Space, at an impressive 1.8m high and 3.6m wide but it also represents a significant step forward in space innovation.
Whilst traditional satellites use various types of chemical propellant for propulsion, the Spacebus Neo XPS propulsion uses Xenon gas and solar-powered electrical energy, which is much more environmentally friendly.
'Wider impact'
We believe that this is a key aspect of the system, for Thales it is not just about delivering cutting edge technology, it is about delivering in a way that takes into account the wider impact.
It also allows the satellite to carry larger payloads, driving down the cost of operating the platform in space- carrying Xenon gas on board requires just one fifth of the volume required by chemical propellant.
Moreover, Xenon gas can reach speeds in excess of 22,000 mph, 10 times faster than traditional chemical propellant whilst requiring 10 times less fuel for the same thrust. This truly represents a step change and opens up huge possibilities.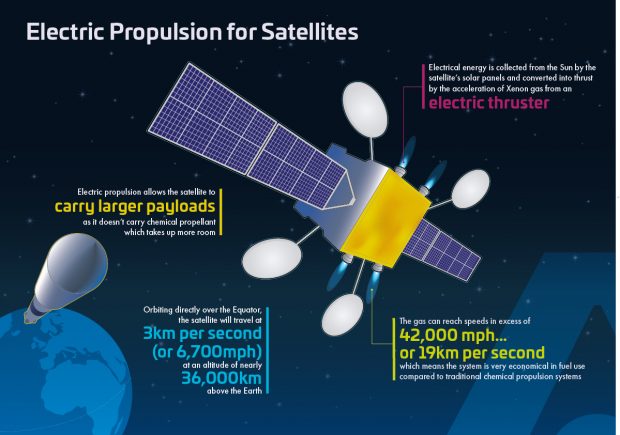 We are also proud of the impact that the Eutelsat satellite will have on people's everyday lives; helping to bring high speed internet and connectivity to sparsely populated and isolated regions, unlocking potential for people and businesses as well as supporting service providers and public authorities.
Whilst last week's milestone represents another step in to the future, I am pleased this work is taking place in Belfast where the world's first aircraft manufacturing company, Shorts Bros, was established, and which forms the foundation of Thales' roots in Northern Ireland.
We are delighted to be developing the foundation of next generation space propulsion in Belfast and Thales is committed to seeing that legacy being maintained long into the future.
Confidence in Industrial Strategy has led company to invest
The future of the UK's space sector is bright and it is good to see it at the heart of the government's Industrial Strategy. Our confidence in the government's commitment has led us to choose the UK to be the Propulsion Centre of Competence for our global space business.
Space represents a chance for us to create, sustain and grow world class innovation, design and advanced engineering skills in the UK. From 10 space-related jobs in 2014, we have grown to 200 based across Bristol, Harwell and Belfast, and that total is estimated to grow again to 350 by 2020.
With the continued backing of the space sector by government, Thales and Thales Alenia Space hope that the Spacebus Neo XPS will just be the first of many innovative technologies that we can deliver in the UK as part of a thriving home grown sector. The sky really is the limit!
---