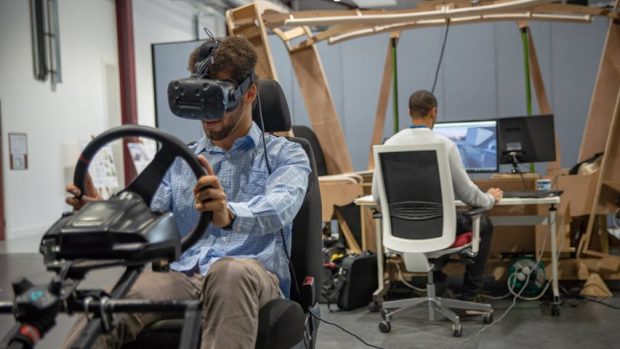 Two-thirds of the world's population is predicted to live in cities by 2050.
There will be double the number of people aged 60 or older and the planet will be 2 degrees warmer. As these trends emerge we are seeing radical shifts in consumer expectations and values.
Governments are searching for ways to meet the demands of rising urban density with outdated infrastructures and pressure to curb carbon emissions.
The challenges of moving people and goods between, around and within cities will become ever more complex, and will rely on radical solutions, not just iterations on the old.
Vehicles are expected to be comfortable, reliable, safe, economical and ecological, and connectivity is taken as necessary, not just desirable.
Coventry – the heart of the automotive industry – is leading research and innovation around the future of design in the context of the future of mobility.
Exploring the future
Coventry University's National Transport Design Centre (NTDC) is a hub for technological innovation, not just exploring the future of transport and the insights behind design but also the development of design itself and the tools used.
NTDC brings together creativity and innovation by understanding factors which influence vehicle, transport system and infrastructure design.
By using the latest VR equipment and combining it with traditional physical prototyping, we create complete mixed reality scenarios for designers, technologists, coders, artists, gamers, material specialists and fashion experts who come together for a fully immersive experience to explore, assess, research and develop new areas of transport design.
Working with industry
In collaboration with industry giants like Geely and MIRA, NTDC creates industry-ready designers of the future who are cross disciplinary in their vision and skills.
NTDC recently joined forces with Uber Elevate to help the tech giant develop flying taxis and has linked up with Williams Advanced Engineering to research 'platooning' – where connected vehicles travel nose-to-tail to reduce energy consumption, emissions and congestion.
Current research using advanced motion capture technology is analysing how train interiors can be adapted to aid passengers carrying luggage and how occupants can most effectively be extracted from damaged vehicles.
Future research being conceptualised involve empathic design, such as vehicles of the future that meet the needs of an ageing population.
The possibilities are endless, with some of the most innovative, creative and disruptive design thinkers leading the future of mobility strategy at Coventry University, which has grown up alongside the car industry for more than a century.
Craig Callum who studied automotive design at Coventry University and went on to design LEGO's iconic car collection, joined NTDC in late 2018 as its director:
My vision for the Centre is being a world leading collaboration hub in the innovation ecosystem of future transport systems… by conceptualising design that takes us to the frontiers of engineering, materials, technology, art and gaming but also being integrated with human factors and user-centricity leading to safer, efficient and connected future mobility solutions.
---