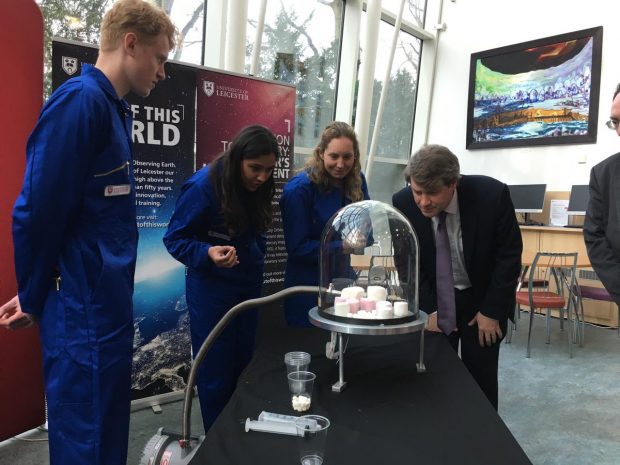 Ever wondered what a marshmallow would look like in space?
Not an every day question that you get asked as a MP, but now that I'm a few months into the job as Science Minister, I'm starting to realise that this is the new normal.
I was helping to do my bit on the first day of British Science Week at the University of Leicester, where I was preparing to take part in some rather unusual science experiments with Suzie Imber, the winner of the TV show 'Astronauts, Do You Have What It Takes?'.
Suzie has since gone on to meet and inspire more than 40,000 school children with her science roadshow— helping to get the next generation interested in science, technology, engineering and maths (STEM) for the future.
What is British Science Week?
British Science Week is all about encouraging and fostering a love of science, as well as highlighting the critical importance of science and technology for our future.
At the Youth Industrial Strategy Science Fair, held by the British Science Association at the Royal Society of Engineering, I had the pleasure of meeting some of our future scientists and engineers.
Their project work had clearly motivated pupils, not just to think about their future, but also the role that science and innovation will have in finding the future solutions to future problems.
From clearing plastic debris from our rivers and beaches, to exploring the future of mobility and zero emission vehicles, I was delighted to see students embracing some of the Grand Challenges that we set out in our modern Industrial Strategy.
At the event, I also announced that we will be holding a new Youth Industrial Strategy Competition, which will seek to engage the next generation as key participants in the conversation about the future of technology and its application.
Getting grilled by the Voice of the Future
We need to ensure that talent is fostered throughout the learning pathway, and I was very grateful to be invited by the Royal Society of Biology's Voice of the Future 'select committee' that took place in Parliament on Tuesday.
I wasn't quite sure what to expect, but I was thoroughly grilled by early career researchers on everything from satellites to ecology, in front of an audience of around 200 students. Listen to the Voice of the Future select committee.
I had sorely hoped that on the same day, I would have been able to hop over to Rome, where the treaty signing for the Square Kilometre Array (SKA) was taking place with the other nine countries across the world who are taking part in creating the world's largest telescope.
The UK is investing over £180 million in the project, whose headquarters will be based at Jodrell Bank in Cheshire.
SKA demonstrates how many large science infrastructure projects are becoming truly international. The UK is determined to continue to play a leading role in international research and innovation.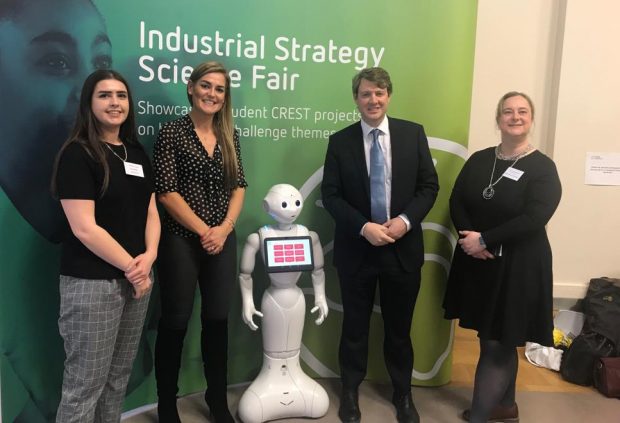 Investing in science
This was the clear message sent out in the Chancellor's Spring Statement, with the announcement that we will be publishing an International Research and Innovation Strategy, as well as launching a review of our international research partnerships, to be led by Sir Adrian Smith, the Director of the Francis Crick Institute.
That wasn't all in a statement packed with good news for science and research, that could have been deliberately written with British Science Week in mind:
£200 million of investment in science was announced in projects ranging from ARCHER2
£79 million new supercomputer to be built at the University of Edinburgh
£81 million for a new Extreme Photonics (lasers) centre at Harwell in Oxfordshire
£45 million for the European Bioinformatics Institute at Cambridge to continue our world leading work on genomics.
I was also delighted to see £60 million to continue the operation of the Joint European Torus (JET) fusion facility at Culham- which I recently visited to give a speech to staff on the vital importance of meeting our commitment of investing 2.4% of GDP in research and innovation by 2027.
I am confident that with the positive signal the Chancellor has sent about the government's commitment to science and research, we will continue to work towards meeting this target effectively and on time.
Seeing our investments in action
At the end of British Science Week, I had the opportunity to see first hand what these investments mean on the ground when I attended the ground breaking ceremony at Cranfield University of the Digital Aviation Research and Technology Centre.
It's a £67 million new centre that will spearhead the UK's research into digital aviation technology, made possible by government funding from Research England.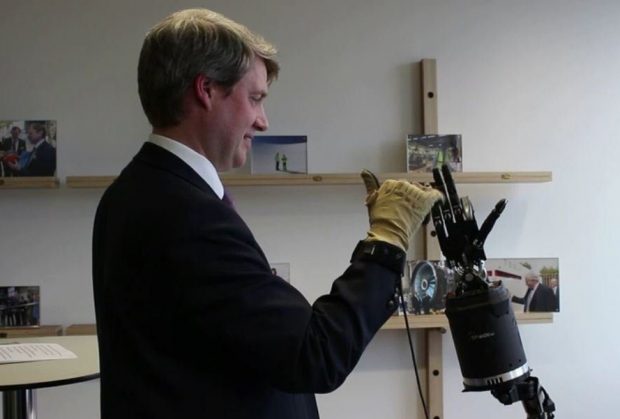 I also got to speak with doctoral students in the university's Agri-Tech Centre about their research on soil and plant health. At universities like Cranfield, and indeed so many other universities that I have visited over the past few months (24 so far…), it is such an honour to see the enthusiasm of researchers explaining the importance of their work.
Finally, to wrap up British Science Week, I popped into the Open University to celebrate their 50th birthday, and to meet with students who have benefitted from the kind of distance, part-time learning that the OU is world-leading in.
Experimenting remotely
Now, post-midnight science shows on BBC2 have been replaced with a remote STEM Lab, again funded by Research England, which allows students to participate in experiments remotely via a camera, controlling the experiment through their computer.
All that is needed is to book in a slot at the lab at a time that suits the student.
It was a nice way to finish my own experience of British Science Week as Science Minister, demonstrating that we are committed to ensuring every student, no matter what their background or prior qualification, has the opportunity to study and learn science, at any time of day.
---