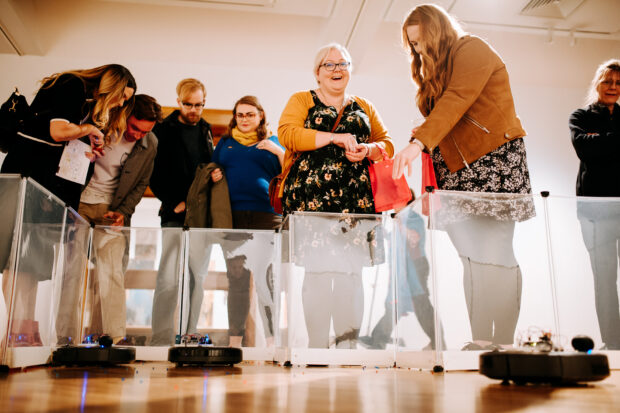 Last week, British Science Week marked its 25th anniversary.
In the quarter of a century since the first British Science Week in 1994, there have been huge societal and technological advances, not least of which has been the emergence of artificial intelligence (AI).
We are increasingly hearing that big data, cloud technologies, machine learning, robotics and automated systems will change our world faster and more fundamentally than any previous technological revolution. AI has moved out of the realms of science fiction and into our everyday lives.
It is one of four Grand Challenges identified in the government's modern Industrial Strategy as a global trend that the UK can be at the forefront of tackling. And, in my view, rightly so.
We can't afford to give up our lead
The UK is one of a group of countries leading AI research, and we cannot afford to give up our lead in many areas of this technology, as increased use of AI could bring major social and economic benefits; it offers massive gains in efficiency and performance to almost all industry sectors, from drug discovery to logistics.
Artificial intelligence, handled with intelligence, could be a great opportunity for the British economy.
AI presents a significant opportunity to solve complex problems and potentially improve productivity, which the UK is right to embrace. But the government has a responsibility to protect society from potential threats and risks.
I do not mean we must try and slow technological progress down. But we must expediate and improve the wider debate about society's concerns surrounding the ethics, transparency and security that come with the new technology.
As the opportunities that AI provide society grow, so too do the potential risks: namely that AI will proliferate, uncontrolled and unregulated at the expense of transparency, privacy, equality and jobs.
In my Presidential Address for the British Science Association last year, I urged the scientific community, politicians, policymakers, educationalists and business leaders to improve the transparency on the use and development of AI and to ensure that the public has trust and confidence that AI is not taking away freedoms or privacy.
If we don't, I believe there is a real danger of a GM-style public backlash against AI. There is an urgent need for wider public engagement, consultation and debate on the ethics of AI.
These must be put at the very heart of AI development and we must ensure that adequate regulations are in place.
Involve young people in debate
We must also seek to involve young people and give them the opportunity to have their voices and ideas heard.
The Industrial Strategy Science Fair was one of the key events at this year's British Science Week, where young people from schools across the UK exhibited their STEM projects on topics linked to the Industrial Strategy's Grand Challenges:
AI and Data
Ageing Society
Future Mobility
Clean Growth
These issues will affect the lives of future generations and we must engage today's students – the business leaders, scientists, teachers and policy makers of tomorrow – in our response to tackling them.
After all, it is not technology itself that should concern us, but rather the humans who control it.
AI is likely to transform our lives in the coming years to a greater extent even than the internet. Let's make sure we're ready for it.
---