On 22 November, the Business and Energy Secretary Greg Clark visited the Culham Science Centre-based Oxbotica to announce the UK government has committed £25 million towards 3 autonomous vehicle projects, bringing the introduction of self-driving cars to Britain's roads ever closer.
Why was this announcement made in Oxfordshire? Simply put, we are at the heart of connected and autonomous vehicle developments globally, whether that's research and development, or the ongoing commercialisation of the technology.
Oxbotica's pilot programme 'DRIVEN' has been visible on North Oxford roads for well over a year whilst – just last month – the company announced a collaboration with Addison Lee with the view to provide self-driving services in London by 2021.
In addition, Osney Mead-based Street Drone continues to ensure that the county really is front-and-centre of this emerging technology.
Oxfordshire could lead the way
Connected and autonomous vehicles is one of four transformative technologies earmarked in the Oxfordshire Transformative Technology Alliance's science and innovation audit, published in the autumn of 2017.
Through these technologies, the audit suggests Oxfordshire could play a major global role in driving forward the national economy – which, if fully-utilised, could be worth in the region of £180 billion to the UK by 2030, around 6% of the global economy across these sectors.
As the Business and Energy Secretary stated connected and autonomous vehicles have the potential to 'revolutionise the way we move goods and people around the UK'. For Oxfordshire to be at the core of this revolution – not just nationally, but internationally – is hugely exciting.
Exciting time for jobs and skills
It's clearly exciting from an economic-perspective, but also from a skills perspective too inspiring 'Generation Z' (those born in 1996 and beyond) to want to work in such a ground-breaking technology.
To many – particularly in Oxfordshire – Mr Clark's announcement perhaps isn't a huge surprise. This transformative technology is something we at OxLEP, alongside key partners, have championed for many months.
As a Local Enterprise Partnership, we have been working hard to promote Oxfordshire's role at the heart of global research and development in connected and autonomous vehicles.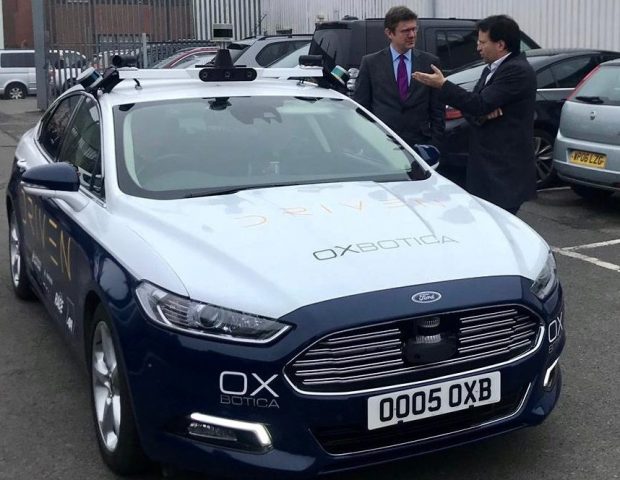 In September, we kicked-off a year-long series of House of Commons economic updates taking the Oxfordshire economy to a national stage. Oxbotica founder Paul Newman spoke passionately at Westminster on the topic of connected and autonomous vehicles, updating not just parliamentarians, but also foreign embassy trade representatives, private investors and those working in artificial intelligence development.
We also helped to secure £2 million-worth of a Local Growth Fund allocation towards the development of a facility that will ensure the county 'remains at the forefront' of global developments in driverless vehicle technology – this from an overall Local Growth Fund 3 allocation of £24.16 million for Oxfordshire.
Located at the Remote Applications in Challenging Environments (RACE) facility at Culham Science Centre, the creation of a 'Connected and Autonomous Vehicle (CAV) pitlane' – offering 4 new workspaces – will allow world-leading companies to run significant testing and development of driverless cars.
It will enable a growing range of organisations to come together at one location to focus on the technology development that is necessary if driverless vehicles are to safely enter the market.
'Responding to the Industrial Strategy'
Connected and autonomous vehicle technology is a brilliant example of how Oxfordshire is responding to the challenge outlined in the government's Industrial Strategy and its 'grand challenge' of putting AI and data at the forefront of the UK's future.
Our own Local Industrial Strategy's vision sees connected and autonomous vehicle technology playing a major part in supporting Oxfordshire to become 'one of the top 3 global innovation ecosystems by 2040'.
The Business and Energy Secretary visit further underlines the major, global role Oxfordshire can play in sector and in the context of a post-Brexit economy.
---
Read a transcript of the video.